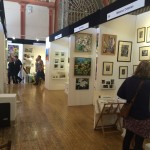 24th – 27th September, 2015
I am glad to invite you to the Brighton Art Fair this autumn. You can see some of my oil , acrylic, silk and graphic works in the hart of historic centre next ti the Brighton Pavilion.
Now in its twelfth year, Brighton Art Fair is a premium selling event with 100 of the best contemporary artists from the UK and abroad, showing and selling their diverse work direct to the public. The fair always promotes a good balance in established and emerging artists, and insists that all work is
exciting, fresh and exceptional. This is what keeps Brighton Art Fair's strong reputation as one of the must see visual arts events in the country.
Brighton Art Fair enables artists across all media to build a relationship with buyers, potential buyers, galleries, shops and curators. The fair selects the most talented painters, print makers, photographers and sculptors along with artist groups and galleries.